Riding around in DC with my man. We like to snap pics of the city.
Washington DC, Winter 2019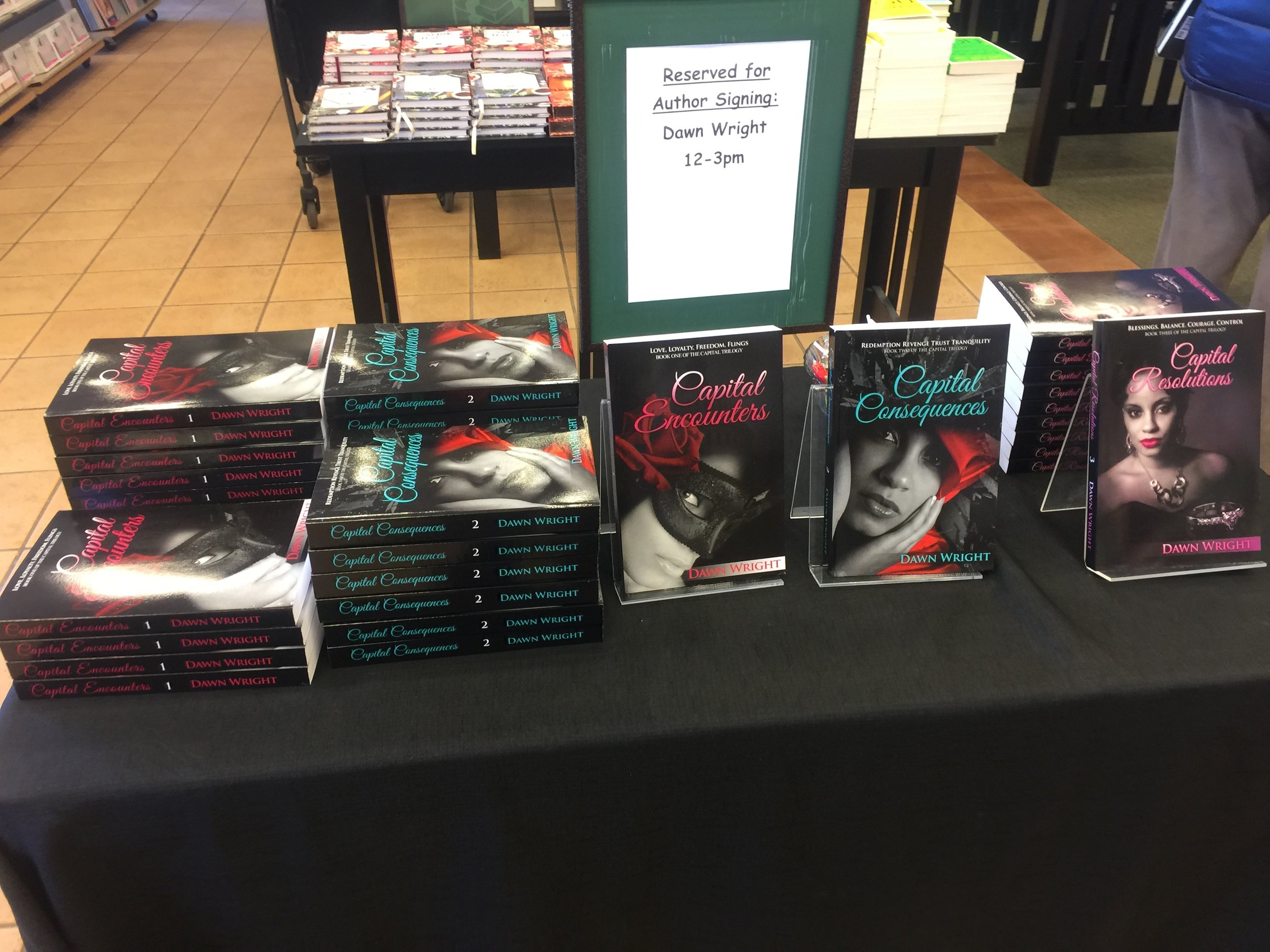 Sold out of Capital Encounters! Every single copy on the shelf as well—gone!
Barnes & Noble book signing, 2019
This location is special and is mentioned in Capital Consequences. Capital Resolutions is here!
(Clarendon) Arlington, VA; Summer lives here in this city in the book. Fall, 2018
One day, I'd decided to go here alone on a Friday. Dorothy's original shoes from TWOOz.
Washington, DC; Smithsonian Museum, Fall 2018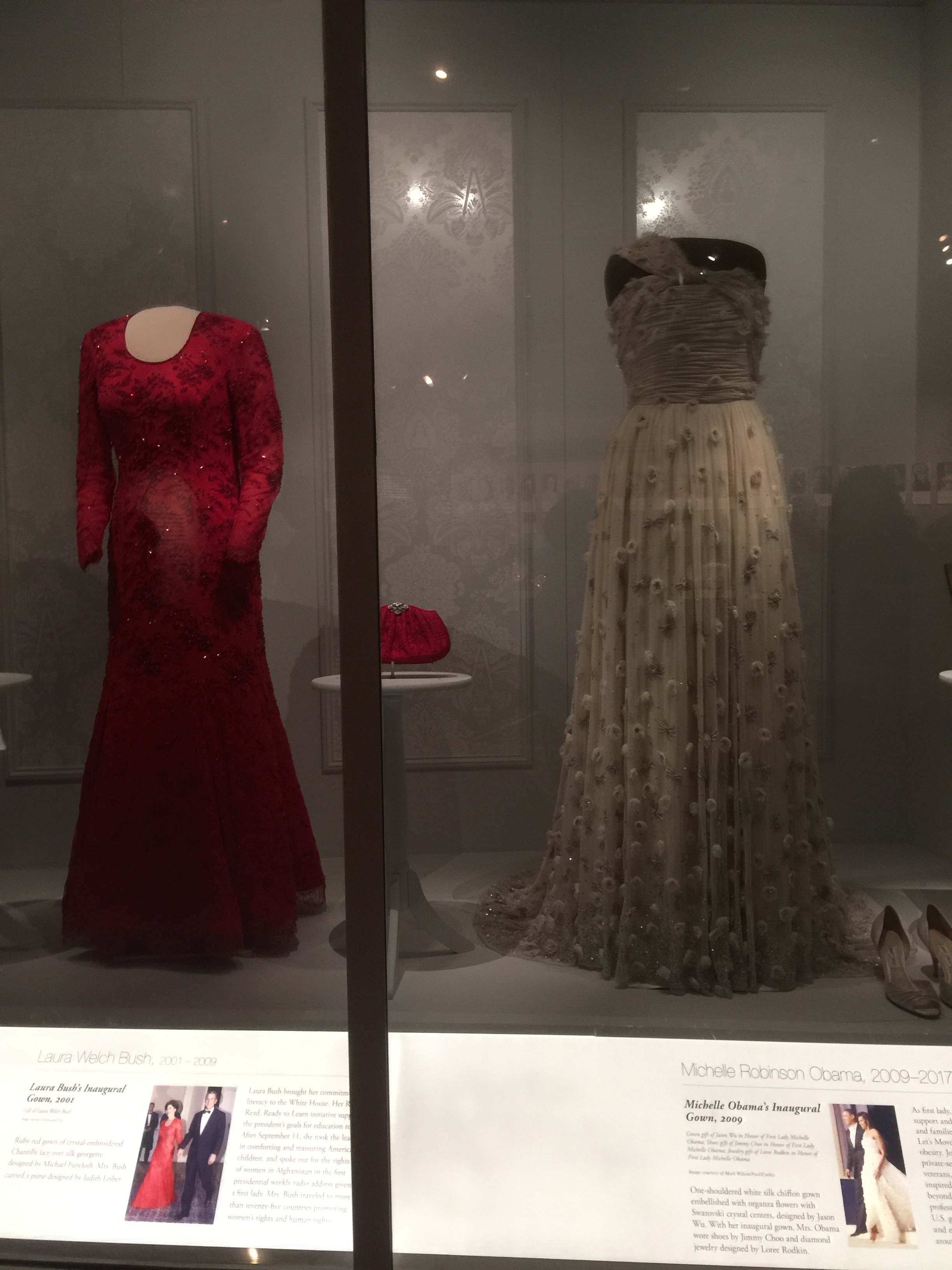 The dresses that the First Ladies have worn.
Washington, DC; Smithsonian Museum, Fall 2018
Yup, I was down to sixteen cents. But look how my luck changed! Add those hearts up, baby!
MGM National Harbor, MD summer 2017
Washington, DC; 2018 . . . summer?
NYC hot dog thingy. No bread—so, so good.
Street Vendor $2, Times Square, Summer 2018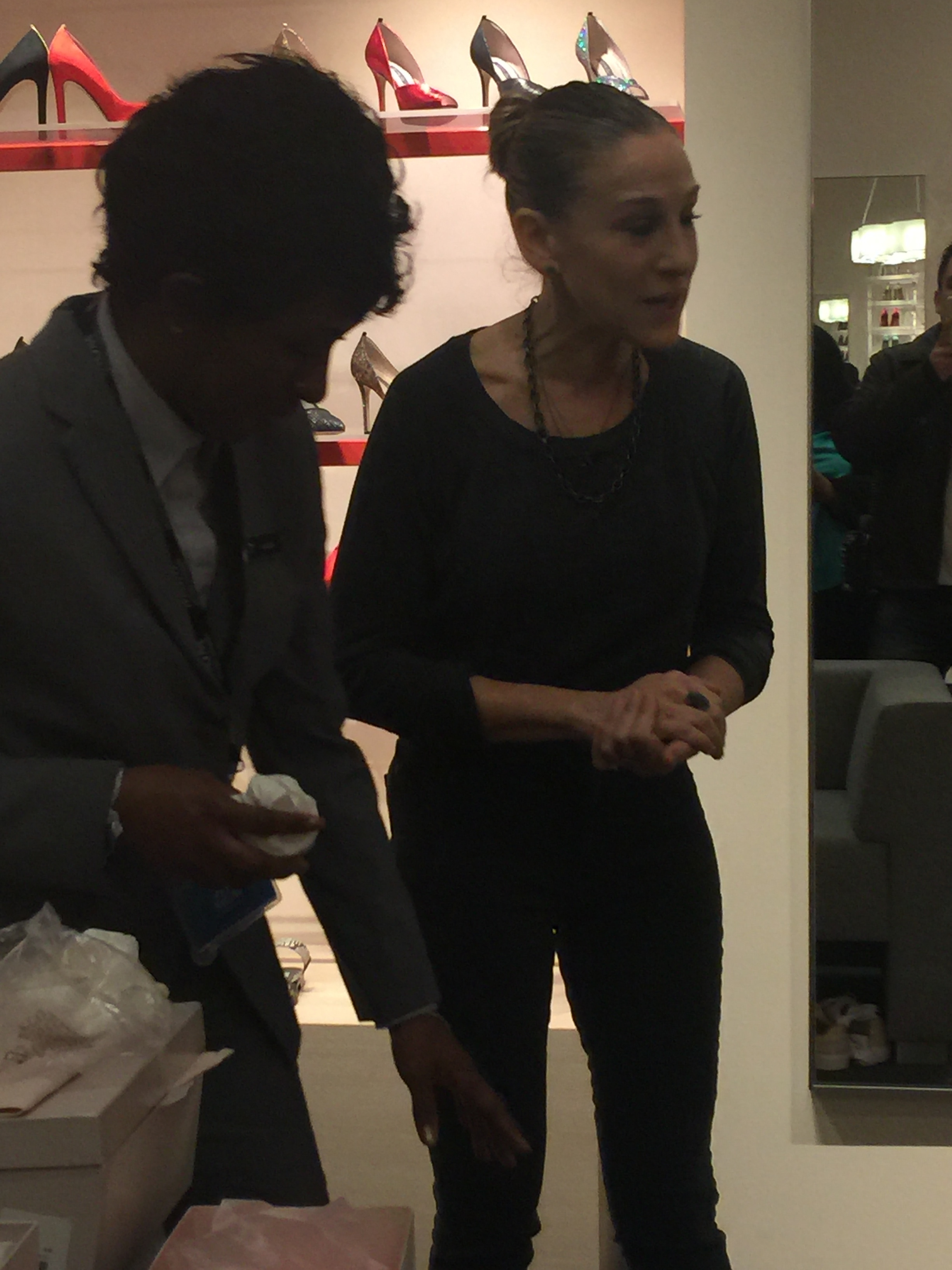 Yup. The one and only SJParker right in front of me. She was so kind. We hugged. Told her how SATC inspired The Capital Trilogy.
National Harbor MGM, MD Winter 2017
Paul Wharton and Sarah Fraser looking hot. The all black is coincidental. My first media interview in front of a live studio audience.
Washington, DC, Spring 2017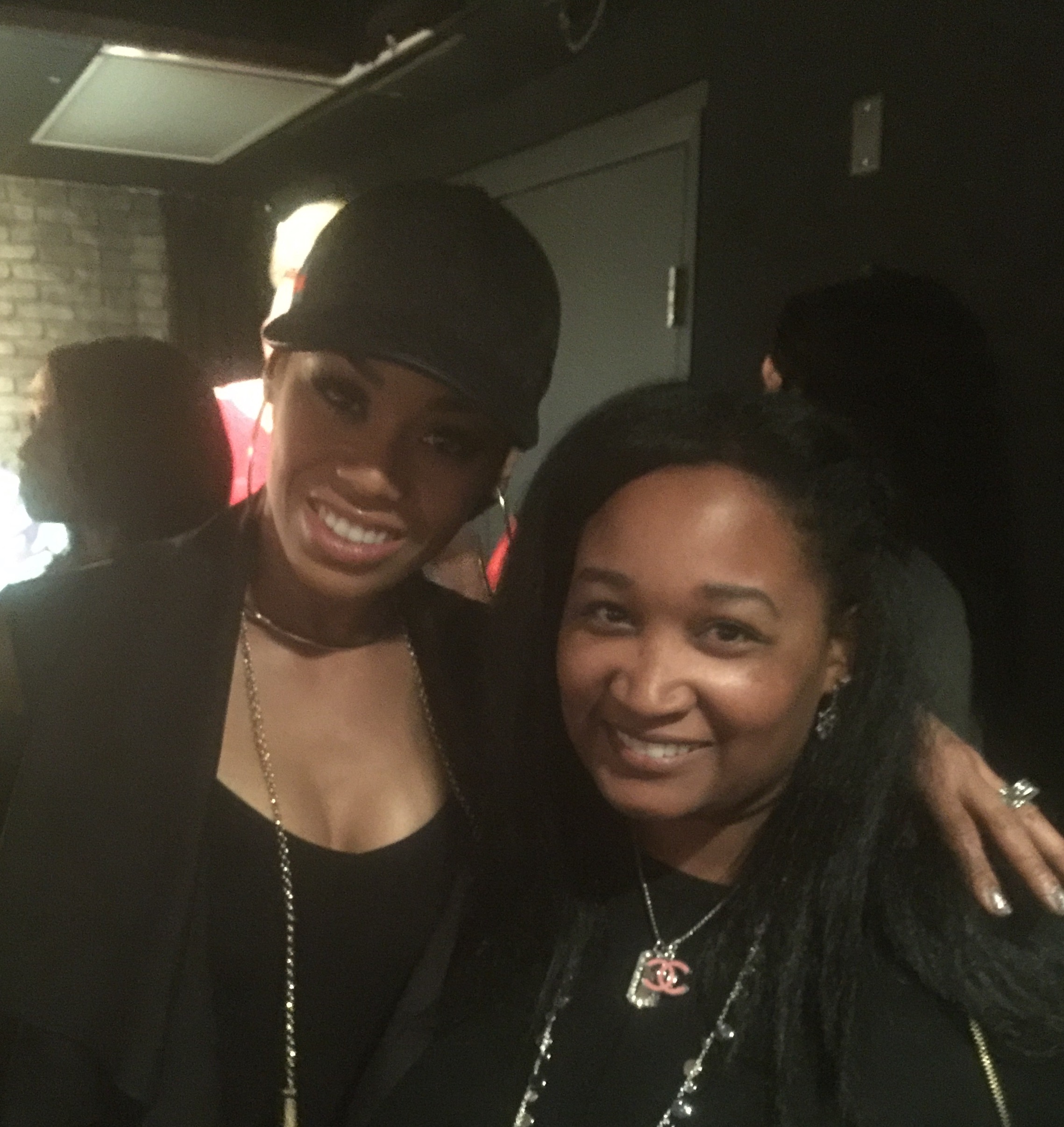 Monique Samuels (RHOP) is a sweetie pie. We sat at the same table and talked before our interviews. So down to earth is she. Again, the black is coincidental.
DC Improv Comedy Club, Spring 2017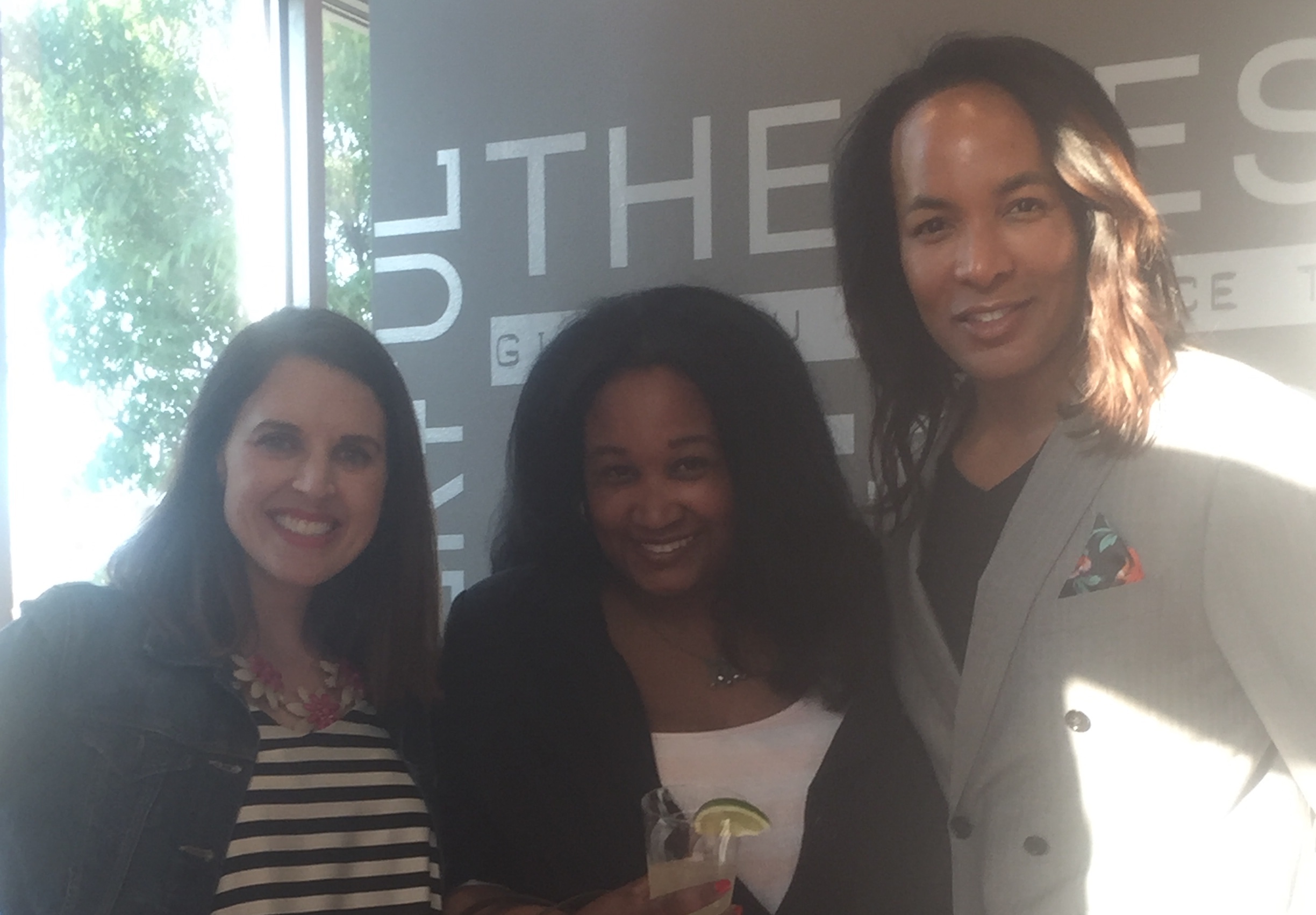 Just us again. This day Sarah went live when she waxed . . . This was a fun day!
Waxing the City, Alexandria, VA Spring 2017
Just SJP again, signing a shoe. Second time seeing her.
MGM National Harbor, MD Fall 2017
Anybody else ever stalk your own character's city of residence?
Look at this man. Eating with friends while on that phone. Typical!!
Times Square, NYC Spring 2018
Yup. Carrie Bradshaw lived here. Good luck getting to that front door. I wasn't the only one snapping photos of this lot.
Manhattan, NYC; Summer 2013??
Ugh. Told you I looked a hot freaking mess with my red hair. *Cue the eye roll*
I used to stop by this joint on my way to grad class, even if it did make me late. Hey! Counseling and coffee go well together.
(Clarendon) Arlington, VA 2018
Planted somewhere in Alexandria--DC, you can always find her with a cup of coffee in one hand and her smartphone in the other. When she's not writing or editing--or doing some other form of her writing business, you can surely catch her gabbing on the phone with friends or watching ratchet reality TV. She loves competition shows, especially ones that revolve around creativity.
In order to get her creative juices flowing, you can catch her riding in her pony shifting gears around town with music blasting and coffee in the cup holder. Marc Anthony and other fine salsa rules her playlist.
Her cousin often accuses her of being very random in conversation, and most describe her as crazy or weird. She wouldn't have it any other way, though her boyfriend insists that she's not weird. BUT, this is the same man who insist she try out for American Idol, because she has a nice singing voice. So, what does he know? According to her mom and cousins, she should just write and stay silent.
Dawn Wright is a Gemini.
She taught herself how to read and write at three.
She sucks horribly at math and science.
Is obsessed with big, curly/wavy hair. The thicker, the better.
NEVER runs out of coffee in the house.
NEVER walks around or sleeps without socks.
Has beautiful feet.
Is ALWAYS in need of a manicure, and that's because her fingernails suck and are ugly, but rarely gets them these days.
Most of her lounge wear has holes in them, because she will wear her most comfy items until her boyfriend steps in and demands that she gets rid of them.
She is very frugal and simplistic; something her boyfriend loves about her.
She's a slot machine slut!
Wishes she could be 33 forever, but she's not even 33 right now.
Loves to learn about the planets, and can teach you about them! Keep in mind, she now likes science, but hates biology!
Loves to study nutrition, but mind you, she doesn't work out and couldn't outrun a dog.
Loves to watch stand-up comedy and will give any comedian a shot, just as long as they don't talk badly about God.
She does love God--a lot!
She's doesn't tell people how to live their lives. Believes that whatever makes you happy, makes you a nice person.
She's a person full of joy, because she is a writer!
She does have a middle name.
Loves listening to music of different languages and will nod her head in the car to pretend she understands it.
Oh, and she does shout at drivers, but they'll never hear her.
Used to hate dark chocolate and preferred milk, but now, eats the dark, avoids the milk.
She believes that she's a master chef, because she loves to cook.
She wants to get back into sewing. If she couldn't write, she'd sew.
Loves to draw, but has no time to do it.
Still believes that she can sing, too.
Loves to watch The Bold and the Beautiful and The Young and the Restless.
Leave her alone, that won't change anytime soon.
Most of her friends are Geminis.
She would never date one.
Her man is a Leo.
She has three children. Two lambs and a bear. They also make great neck support in the bed while watching TV.
Believes that NYC is the best place in America, though she's not qualified to make such a assessment given her history of limited travels.
She loves New Yorkers because she feels they're most transparent and typically nice!